"Flying Fish No. 3"
Limited-Edition: 300
Return to the Classic Collection
Framed Print w/ Remarque
24.5" x 17.5"
$460.00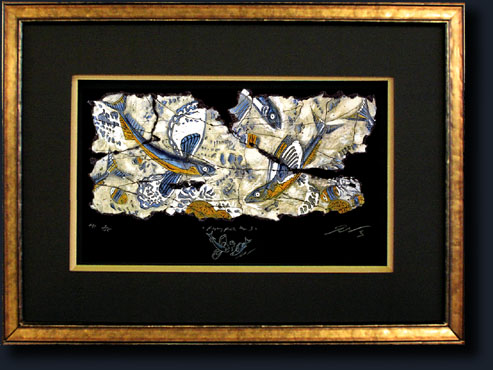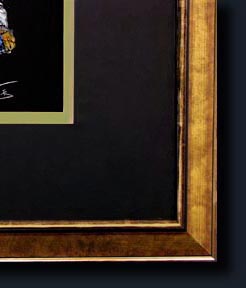 Frame Style With Close Up

Remarque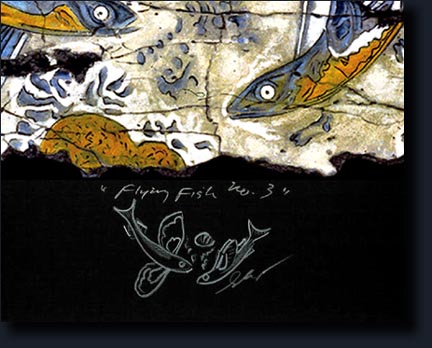 What are Remarques?
Remarques
are personal illustrations drawn by hand directly onto the
limited edition print
, in which the artist highlights a detail of the print. Each remarque is a custom drawing, and can dramatically increase the visual impact of your print, as well as its value, due to this unique feature.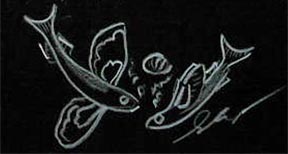 (close-up of remarque)
Description of this Artwork
Inspired by a
Cretan
wall mural at
Phylakopi
in
Melos
, c. 1500 B.C., this
fresco
is a solid example of the Cretans' portrayal of a marine life nature scene. The composition consists of fish with wing-like fins, gliding through the water amongst strange-shaped objects, which may be interpreted as floating pebbles, and rocks lining the sea floor. Other designs here may represent seaweed. The blue, yellow and white colors were commonly used in many
frescoes
during the late Minoan/early Mycenaean era.
Through a complexity of highlight and shadow,
Bogdanoff
creates a fossil-like appearance to his fish, which give the fresco a contrast of the free-flowing movement of sealife and, at the same time, the illusion that the fish have been imbedded in rock, frozen in time.