"Hebrew Prayer"
Limited-Edition: 200
Return to the Classic Collection
Framed Print w/ Remarque
21" x 14"
$460.00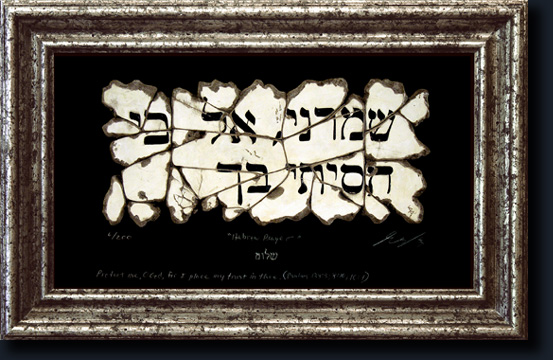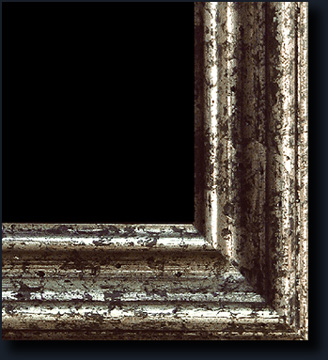 Frame Style With Close Up

Remarque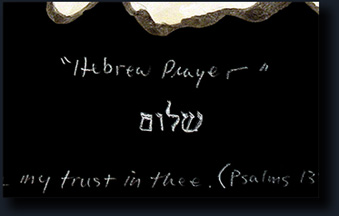 What are Remarques?
Remarques
are personal illustrations drawn by hand directly onto the
limited edition print
, in which the artist highlights a detail of the print. Each remarque is a custom drawing, and can dramatically increase the visual impact of your print, as well as its value, due to this unique feature.
Description of this Artwork
Translation: Protect me, O God, for I place my trust in thee. (Psalms 134:3; 8:10; 16:1.)
This is how the prayer would look if vowels were added:

The Hebrew and Yiddish languages use a different alphabet than English. Hebrew is written from right to left, rather than left to right as in English. Alef is the first letter of the Hebrew alphabet and Tav is the last. The Hebrew alphabet is often called the "alefbet," because of its first two letters.
Like most early Semitic alphabetic writing systems, the alefbet has no vowels. People who are fluent in the language do not need vowels to read Hebrew, and most things written in Hebrew in Israel are written without vowels.
However, as Hebrew literacy declined, particularly after the Romans expelled the Jews from Israel, the rabbis recognized the need for aids to pronunciation, so they developed a system of dots and dashes called nikkud (points). These dots and dashes are written above, below or inside the letter, in ways that do not alter the spacing of the line. Text containing these markings is referred to the "pointed" text.
Most nikkuds are used to indicate vowels.