x
"Monk In Meditation"
Limited-Edition: 200
Return to the Classic Collection
Framed Print w/ Remarque
15" x 16.5"
$460.00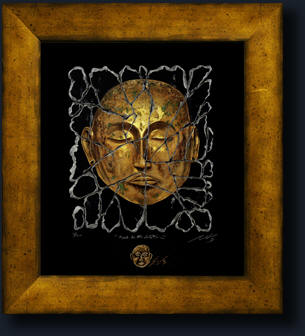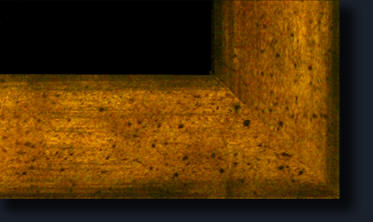 Frame Style


Remarque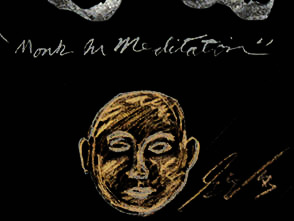 What are Remarques?
Remarques
are personal illustrations drawn by hand directly onto the
limited edition print
, in which the artist highlights a detail of the print. Each remarque is a custom drawing, and can dramatically increase the visual impact of your print, as well as its value, due to this unique feature.
Description of this Artwork
Inspired by a gold-gilded bronze funerary mask. Liao Dynasty, 907 to 1125 A.D. The funerary masks found in Liao burials appear to reflect the facial features, age, and sex of the interred.
The mask Bogdanoff used for this fresco was found in Naiman Banner, Zhelimu League. The original mask was made of bronze sheets, which were assembled and then gilded. The face has curved eyebrows over closed eyes, the bridge of the nose is somewhat flat, and the cheekbones and mouth denote a faint smile. The body on which this spectacular piece was found was wrapped in a mesh of gold and silver wire. The mask is one of the largest Qidan funerary masks found in Inner Mongolia to date.
©Copyright, 1999-2017, Steve Bogdanoff.
All artwork copyrights are held and retained by the artist Steve Bogdanoff. Images are not to be printed, copied, appropriated or distributed without prior permission of the artist. Purchase of artwork does not convey copyrights.