x
"Sleeping Satyr"
Limited-Edition: 200
Return to the Classic Collection
Framed Print w/Remarque
19.5" x 23.5"
$460.00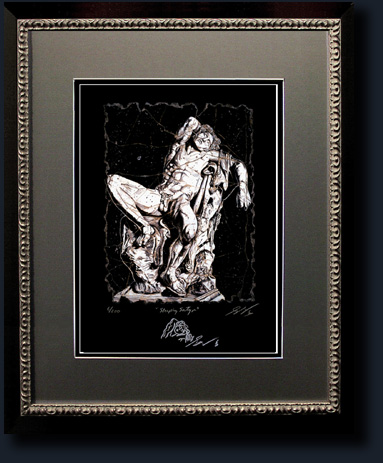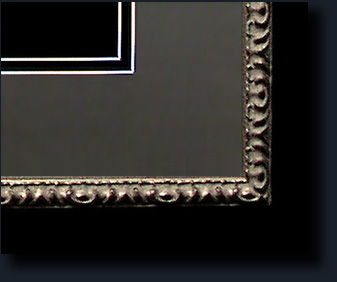 Frame Close Up
Remarque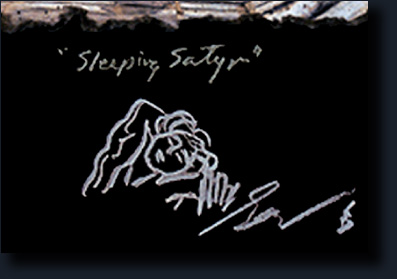 What are Remarques?
Remarques
are personal illustrations drawn by hand directly onto the
limited edition print
, in which the artist highlights a detail of the print. Each remarque is a custom drawing, and can dramatically increase the visual impact of your print, as well as its value, due to this unique feature.
Description of this Artwork
Inspired by The Sleeping Satyr Statue on display in Munich.

The statue represents, at first glance, a youth asleep in a provocative posture, but who turns out to be a satyr, recognizable only close-up by his pointed ears and animal-skin rug. The satyr is lying in a rocky setting, and we are to suppose he had fallen asleep drunk in the woods. His slumped, sprawling body looks relaxed, natural, open and straight forward. His languid pose, with one arm crooked back behind the head, conventionally signaled fatigue or sleep, often suggesting the lassitude after lovemaking. Though the erotic appeal of this figure has often been noted, in so thoroughly bisexual a culture its meaning would have shifted depending on the observer. A female viewer might read in it a desirable heterosexual partner, while a male viewer could see either an object of homosexual attraction or an opportunity to identify with another virile male relaxing after successful conquest of some nymph.
©Copyright, 1999-2017, Steve Bogdanoff.
All artwork copyrights are held and retained by the artist Steve Bogdanoff. Images are not to be printed, copied, appropriated or distributed without prior permission of the artist. Purchase of artwork does not convey copyrights.